Emergency Air Conditioning Repair
Los Angeles CA
AC repair is a crucial aspect for your home, as it ensures that your air conditioner is in full working condition, without any malfunctioning. As we move on from the colder months towards summer, the rise in temperature prompts more calls for an AC. That's why it's a must that you ask a professional company for AC maintenance so that the summer heat cannot bug you anymore. The AC HVAC system experts will make sure that your machine is in safe hands, and they will cure all the issues that the air conditioning system might be facing.
Get in touch for AC Maintenance, Repair and Installations
Our team is always ready to provide you with exceptional services at any point in time.
Frequently Asked HVAC Repair Questions
Whether you're considering the purchase of a new air conditioning unit, a new heat pump installation or you're researching ways to extend the life of the one you already own; you likely have questions on how to do so.
Since the overall efficiency of your air conditioning system or your furnace installation can significantly impact your budget and the environment, it's essential to understand your options.
In our years of service, here are some of the most common questions we have been asked regarding heating and air conditioning unit services, indoor air quality, heater installation and furnace repair:
How can I tell if my AC system is broken and requires air conditioning repair?
First, check your thermostat. If the display is blank, change the batteries. This is the most common cause. If a battery change does not work, remove the thermostat from the wall and ensure the unit receives power. Another typical problem is when cooling systems are blowing warm air. If it's blowing warm air, then please call us right away!
You may wish to contact one of our technicians to assist you with this task by using a multimeter to check voltage. Many other advanced troubleshooting steps are involved in the process, such as looking at the fan motor, air handler, and much more.
When should I replace my air conditioner instead of getting it fixed?
Like your home itself, your Los Angeles HVAC systems are also an investment. When replacing an AC unit, things to consider are the age, cost of energy, refrigerant leaks, and ongoing heating, air conditioning, and indoor air quality repair costs. Air conditioning installation is the best choice when the HVAC repairs are as much as a new air conditioner. 
Why is my air conditioner freezing up?
Most AC's freeze up for two reasons: lack of coolant or absence of airflow to the evaporator coils. Here are some things to double-check to prevent your air conditioner from freezing up next time. 
Keep your temperature above 70 degrees.
Keep proper maintenance, so your coolant level does not get too low. 
Replace air filters once a month (remember: every time you pay your mortgage or rent, replace your filters!)
Your Trusted AC Repair Contractors Near You
When it comes to finding the right professionals for your cooling needs, it can be rather challenging to make the right decision. Because of this, we always advise our customers to look at a company's testimonials first because it will surely help you choose the right technicians for the work you need to be done when it comes to your home's indoor air quality, heating, and AC system.
When it comes to Mor Air, our highly trained professional experts will solve your problem as quickly as possible, politely and professionally. Rest assured that if you choose us, you will not make the wrong decision because we only do the repairs your AC HVAC system needs.
Cooling Unit Life Expectancy
As a general rule of thumb, most professionals and the U.S. Department of Energy list the shelf life of a typical cooling system as 10-15 years with proper care and maintenance. Keep in mind that each design is different – some can last well beyond that if they are well-maintained and serviced regularly.
If, however, you find yourself continually pouring money into fixing your unit (anything over 30% of the cost of a new unit), and your unit is ten years old or older, it's probably best to consider upgrading to a unique system.
About Our City
When it comes to LA, few things encapsulate the city's essence, quite like the iconic Hollywood sign, the Walk of Fame, or the international transportation hub, LAX. Setting the world's standards for all things glitz, glam, and luxury, "The City of Angels" is all about big city life in the most elaborate means possible.
In a city that practically oozes with glamour and youthful aspirations, you'll find an endless supply of nightlife, diverse cuisine, and shopping opportunities in the finest shops and boutiques the world has to offer.
Want to get out of the city for a bit? Check out the breathtaking mountain views from Angeles Crest Highway or the stunning cliffs and ocean views of Point Fermin Park. LA truly has the best of all worlds!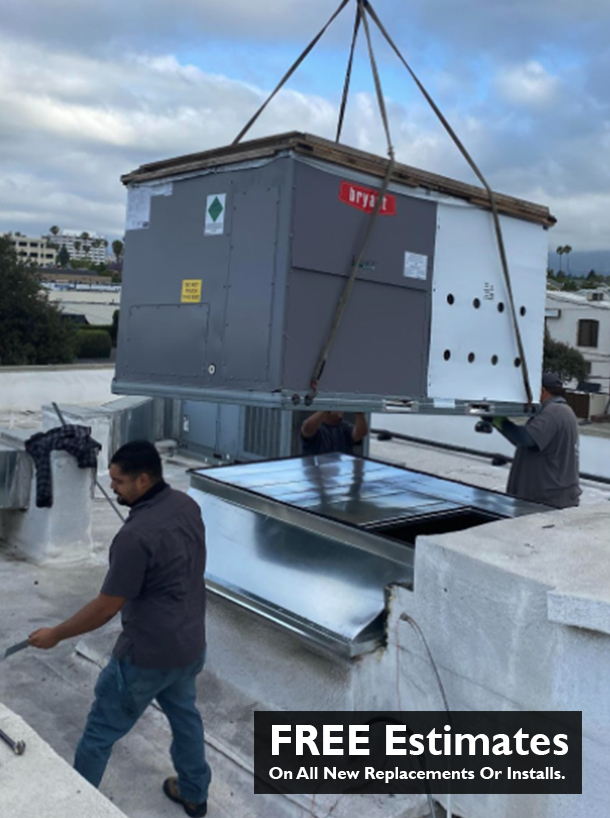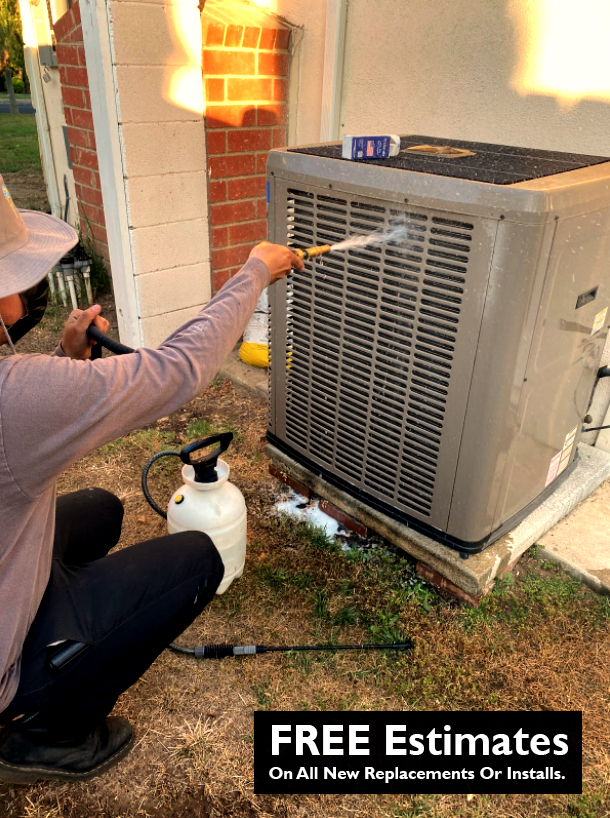 Need To Get Your AC Repaired or Replaced? Call Today!
If you are having problems with your cooling unit, choose Mor Air for all of your needs. Our solid warranties and trained professionals are prepared to handle every situation with care, professionalism, and transparency. Few things are as frustrating as a malfunctioning cooling system. Therefore, you need a professional company that could be there for you no matter what time of day it is. Our efficient emergency response team is ready to help you get back to your comfort zone.
Should I cover my cooling unit during winters for a more efficient system?
Cooling units are designed to be outdoors in the harshest of environments, so it is not necessary to cover them during the colder months of winter. Covering them can cause corrosion and rust internally due to trapping rain and snow inside for extended periods.
There are, however, certain times when it is beneficial to cover your unit partially. It is a good idea to lightly cover just the top portion of your outdoor system to keep it free from falling debris such as tree leaves during the fall. We recommend you remove the cover before winter, though.
Do I have to clean the coils of my unit?
In short, yes. There are basic routine maintenance practices you need to have done on your unit at least once a year to keep it in peak condition.
Part of this maintenance involves ensuring the coils are kept clean and free from any environmental factors that could interfere with its operation.
This is usually handled by an annual inspection and service visit from a certified HVAC service technician.
Mario is great to do business with! My air conditioning hasn't been working real effectively. I had a quote from another company who told me that I would most likely would have to replace the entire unit. It would have cost quite a few thousand. I found Mor Air and got a second opinion. Turns out all he had to do with change a filter and some tweak to the actual unit which I have no idea about it and my air was fixed! Saved me literally thousands. Always great to find a business who does honest work and don't take advantage of you like other companies would. Thanks Mario!
After finally giving up on our A/C unit, I was ready to replace it when my business partner's wife referred Mario to us. I called him up, he comes by a few hours later, opens up our unit spots the issue immediately. He could have easily upsold me and had me cough up the dough for a brand new unit, but instead he replaced the corresponding hose and seals. Who does that? People with integrity. That's the only type of people we should do business with.
It was a warm and hot day when our ac unit stopped working in our office! We could not take the extreme heat along with the phone lines ringing. We were all in a bad mood! Our original contractor was too busy, we had to find a solution. In less than two hours, Mario was able to come to our rescue. The first thing we noticed about Mario was his professional and very friendly attitude. Mario was able to fix our AC unit and saved the day for our team! We have officially contracted Mor Air as our new vendor due to their fast response, professionalism and ability to provide us with extensive customer service.
"Found MorAir here on Yelp when our AC went out. The technician Mario gave me a few helpful suggestions over the phone which actually got my AC to turn back on but only for a few days until the AC stopped working once again. So i called back and he set up a service call for the next morning! Mario arrived promptly and was extremely professional and got our unit working fast. Its great to have a honest contractor there when so many would sell you something you don't need. I would highly recommend MorAir to my friends and family to help them avoid the issues I've had with other contractors in the past. A special Thanks to Mario for getting our unit working again fast and for a reasonable price. We are customers for Life!
"Mor Air provides professional, friendly and reasonably priced AC services. They provide detailed information about the AC diagnostics when my AC unit was not working out. He works very efficiently and has a lot of experience in his field. Mor Air is prompt about scheduling appointments. I've been a customer for over a year now and have been very happy with their services. I highly recommend calling Mor Air for your AC needs."
We feel so lucky to have found Mario. He is honest and hardworking. Another company came to our house when we had a leak, and without even assessing the problem, told us we needed to replace a functioning unit at the cost of $3000. Mario diagnosed the problem and fixed it for a fraction of that cost. He then returned to address some issues with our unit providing effective & inexpensive service. He will forever be our AC guy!
Get in touch
If you have any questions or an individual request for our services, you can call us or visit the office:
Address
11661 Saticoy Street
North Hollywood,
CA 91605
Hours
Mon - Fri: 7 am to 5 pm
Saturday: 9 am to 2 pm
Sunday: 10 am to 1 pm
Contacts
(818) 797-7719
info@morairinc.com