Air Conditioner Installation
Los Angeles - Reliable Cooling Services
Is your air conditioning system operating below your expectations? If so, you can rely on our swift services to ensure it functions to your contentment. Whether your looking for an air conditioning installation or an emergency check-up, our team is here to assist.
When Is Installing A New Air Conditioning System The Right Call?
Should I repair or replace my air conditioning unit? This is a common question we get from our customers. But, there is no "one size fits all" answer to it as it depends on numerous factors such as your system's age and its repair costs.
Although repairing your AC extends its lifespan, it can result in more costly repairs in the long run.
To help you decide, here are some signs that indicate you need a new system:
Your repair costs are more expensive than half of your system's value.
Your system doesn't cool or heat your home correctly.
Your unit keeps breaking down, causing constant repairs.
Your system is older than 15+ years.
However, when thinking about ac installation, it is important to know that replacing your AC unit is wise since today's systems provide more features than those made ten years ago. For instance, they have energy-saving features and offer more comfort to you and your loved ones. Other benefits you can enjoy by upgrading your system include:
Low carbon footprint
Low energy bills because of their energy-saving capabilities
Advanced technological features for increased comfort
Tax incentives or deductions
While you'll pay a considerable one-time cost for your air conditioning installation, you will save more money on energy and repair costs in the long run. Don't hesitate to upgrade your unit today and contact our team for a complete solution to your cooling needs.
Get in touch for AC Maintenance, Repair and Installations
Our team is always ready to provide you with exceptional services at any point in time.
Your Trusted Air Conditioner Installation & Replacement Contractors Near You
Nowadays, it's easy to find an AC installation company. Unfortunately, not all can provide you with the quality installation services you need. Besides, most companies cannot match the level of commitment, experience, and care we provide when installing your new system.
Here are some reasons why customers rely on us:
We take the time to inform you on your upgrade and answer any questions you have regarding its installation. Also, we walk you through the maintenance and use of your air conditioning system.
We offer solid warranties.
Our team cleans up after installing your new system, and they show respect for your space.
We only employ qualified and experienced technicians.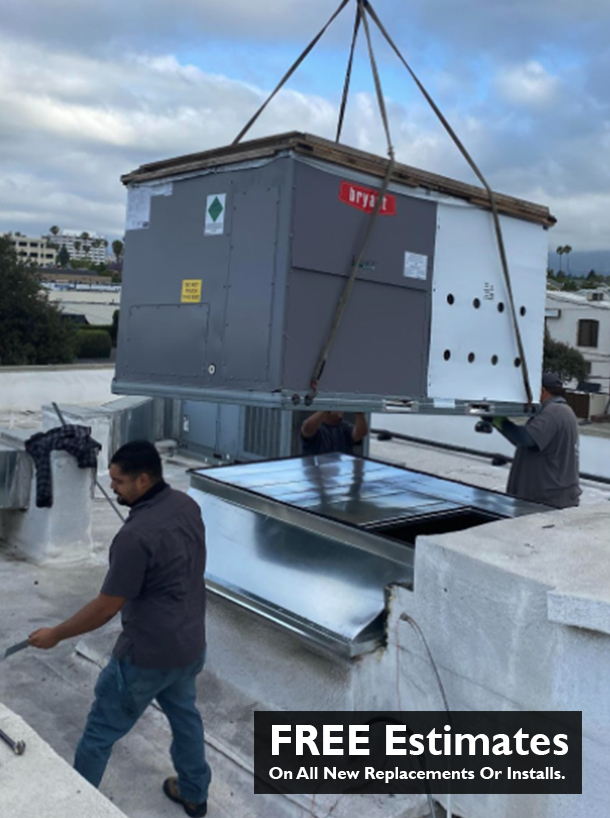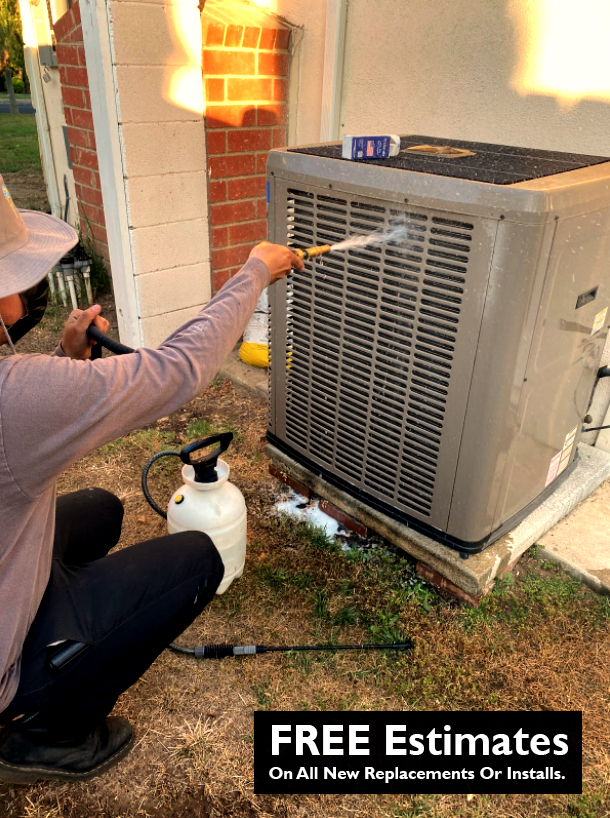 Need Air Conditioner Installation and Replacement
Services? Call Our Team!
Purchasing a new AC system is a significant investment that requires careful consideration and the right team in place. Luckily, you can trust us to install your system correctly and provide you with the professional guidance you need to make the right purchasing decision. Contact us online today to schedule your installation service for your house or business.
Contact us today by calling our team or chatting with an expert online to book an appointment.
Heating and Air Conditioning Units We Replace / Install
Split Systems
These systems are composed of external and internal parts. The external unit is placed outside the room and houses the condenser, the compressor and the expansion valve. The indoor unit contains the evaporator coil and the cooling fan and can be mounted almost anywhere in the house.
Pros and Cons:
The condenser is smaller and less bulky than package units

Requires space inside the house
Package Unit
Package units are composed of all the cooling coils and the unit's filters in one casing. These units are designed for spaces such as tiny homes, motels, and function halls. A variation of this design is where the compressor and condenser are in one casing while expansion valves and cooling coils are in a separate case located in the room to be heated or cooled.
Heat Pumps
Heat pumps are central components of any AC system., Heat pumps are composed of two units, the outdoor unit or the heat pump and the indoor unit called the air handler. We also offer ac installations of heat pumps, whether replacing a broken pump or installing an entirely new system.
During a maintenance appointment, we will:
Check overall system performance

Inspect system components for defects, wear or potential issues

Tighten, adjust, flush, lubricate, and calibrate accessible components
Commercial Air Conditioner
Also called central systems, these are designed to serve large spaces such as offices, commercial shops and stores, theatres and factories. This is powered by one central compressor with the capacity to condition large distances. While more expensive to install, this is perhaps the most energy-efficient way of cooling large commercial spaces.
Mini Split Ductless
These ductless systems resemble central systems but are much smaller and suitable for cooling just one or two rooms. They are composed of an outdoor compressor and an indoor air handler. The two are linked together by a tube that contains the power cable, refrigerant tube, suction and condensate drain. These are very easy to install and energy-efficient since you can have multiple air handlers connected to one outdoor unit, and you can condition each zone differently as needed.
Frequently Asked Questions
How old should my HVAC system be for me to consider ac replacement?
A well-maintained AC system can run efficiently for 12-15 years and a well-maintained furnace for 15 – 25 years. If you have an older system in your home that has required many repairs recently, consider upgrading to a new system. It is best to replace it before it completely breaks down and you are left without cooling or heating when you need it the most.
My old ac unit is running fine? Why should I replace it now?
An ac unit may run for many years past the recommended replacement date. However, for a lot of those years, it will probably run well below its rated EER. Which means it is running inefficiently and costing you extra money every year. Older units also tend to need repairs more frequently. It is better to be proactive and invest in a team that will save money in the long run. 
Can I purchase my unit and have LA Construction Heating and Air install it?
We want to guarantee quality in all our work and offer excellent warranties for all our ac installations. So as a policy, we do not install equipment that we do not purchase because we cannot provide security.
Is it better to have my whole HVAC system replaced at once?
If your condenser, furnace, and ducting are all old, replacing them all at once is better. You won't reap as many benefits (better airflow, higher efficiency, etc.), upgrading only part of your system to a new system.
Mario is great to do business with! My air conditioning hasn't been working real effectively. I had a quote from another company who told me that I would most likely would have to replace the entire unit. It would have cost quite a few thousand. I found Mor Air and got a second opinion. Turns out all he had to do with change a filter and some tweak to the actual unit which I have no idea about it and my air was fixed! Saved me literally thousands. Always great to find a business who does honest work and don't take advantage of you like other companies would. Thanks Mario!
After finally giving up on our A/C unit, I was ready to replace it when my business partner's wife referred Mario to us. I called him up, he comes by a few hours later, opens up our unit spots the issue immediately. He could have easily upsold me and had me cough up the dough for a brand new unit, but instead he replaced the corresponding hose and seals. Who does that? People with integrity. That's the only type of people we should do business with.
It was a warm and hot day when our ac unit stopped working in our office! We could not take the extreme heat along with the phone lines ringing. We were all in a bad mood! Our original contractor was too busy, we had to find a solution. In less than two hours, Mario was able to come to our rescue. The first thing we noticed about Mario was his professional and very friendly attitude. Mario was able to fix our AC unit and saved the day for our team! We have officially contracted Mor Air as our new vendor due to their fast response, professionalism and ability to provide us with extensive customer service.
"Found MorAir here on Yelp when our AC went out. The technician Mario gave me a few helpful suggestions over the phone which actually got my AC to turn back on but only for a few days until the AC stopped working once again. So i called back and he set up a service call for the next morning! Mario arrived promptly and was extremely professional and got our unit working fast. Its great to have a honest contractor there when so many would sell you something you don't need. I would highly recommend MorAir to my friends and family to help them avoid the issues I've had with other contractors in the past. A special Thanks to Mario for getting our unit working again fast and for a reasonable price. We are customers for Life!
"Mor Air provides professional, friendly and reasonably priced AC services. They provide detailed information about the AC diagnostics when my AC unit was not working out. He works very efficiently and has a lot of experience in his field. Mor Air is prompt about scheduling appointments. I've been a customer for over a year now and have been very happy with their services. I highly recommend calling Mor Air for your AC needs."
We feel so lucky to have found Mario. He is honest and hardworking. Another company came to our house when we had a leak, and without even assessing the problem, told us we needed to replace a functioning unit at the cost of $3000. Mario diagnosed the problem and fixed it for a fraction of that cost. He then returned to address some issues with our unit providing effective & inexpensive service. He will forever be our AC guy!
Get in touch
If you have any questions or an individual request for our services, you can call us or visit the office:
Address
11661 Saticoy Street
North Hollywood,
CA 91605
Hours
Mon - Fri: 7 am to 5 pm
Saturday: 9 am to 2 pm
Sunday: 10 am to 1 pm
Contacts
(818) 797-7719
info@morairinc.com