A lot of people only realize the need to replace their air conditioning unit after it starts failing them. If you have an old air conditioner that is still working, then there is no need to worry about getting a new one installed.
Even if your air conditioner has been around for over 15 years, it will still function correctly. However, you might want to consider replacing your old air conditioner if any of the following are true:
• Significant increase in electricity bills
• When repairs cost more than 50% of the original purchase price
• Decrease in cooling efficiency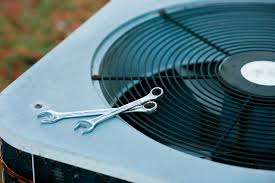 Can I Just Fix My 20 Year Old Air Conditioning System
Of course, you can always opt to just fix it instead of buying a new one. However, if the problem is not something that you have the expertise to fix or if you are going to incur more expenses in repairs than when buying a new unit in the first place, then a replacement would be a better option.
Keep in mind that repairs will only fix the current problem? It may be a temporary solution until another problem occurs, which can save you money in the short term but will cost more when the whole system finally breaks down for good.
Should I Call an Expert To Replace My Old AC
Of course, you should. An AC Installation expert in North Hollywood CA will be able to tell if your old air conditioning system can still be repaired or not, which can save you a lot of money in the long run. They are also trained to identify problems with your AC, so they might even be able to fix it for you depending on whether there is any quick-fix solution that they can offer.
When the expert tells you that it is time to replace your old AC, then they will be able to help you make an informed decision on what air conditioning unit to buy.
When Is It Time To Replace an Old Air Conditioner
The expert may also tell you if it is more cost-effective for you to repair your old AC unit rather than buy a new one? If this is the case, then you can save money by having your current AC repaired instead of buying a new one.
Although an expert air conditioning service contractor will recommend getting a replacement or repair, it is still up to you whether you want to follow their advice or not. It is important to get a second opinion from another expert to make sure that the repair costs will be worth it or if you may need to get a replacement after all.
Another sign of needing to replace your AC is if it takes too long for the unit to cool the area inside of your house. Although this might not seem like a problem at first since many people are comfortable with the warmth level inside, this can cause problems in the long run. The humidity may contribute to health problems if not addressed immediately.
If you are unsure whether it is time to replace your old AC or if your unit can be repaired even further, it is advisable to hire a professional air conditioning service contractor for help. They will be able to advise you whether a replacement is needed or if your old air conditioning system can still be fixed.