When it comes to air conditioning systems maintenance is very important. Air conditioners don't come cheap and if yours is still under warranty, it's best not to take any chances. If you can tell that something's wrong with your air conditioner, the best thing for you to do is fix it. Why spend a few hundred or thousand dollars for a new one when you can spend less than the cost of a meal from your favorite restaurant to have it fixed?
However, if it's too late and replacing your air conditioner is the only option, the first thing that you need to do before purchasing a new unit is to determine whether it will be more practical for you to repair your existing unit or simply purchase a new one.
Parts can be replaced and repaired, but there comes a point when the damage has gone too far and those parts will no longer work as they should. If you can receive an estimate for how much it's going to cost you to fix your air conditioner before having someone start on the job, it will be easier for you to make a decision. If the price to fix your air conditioner is half of the amount that you would spend on a brand new unit, it might be worth looking into getting yours fixed.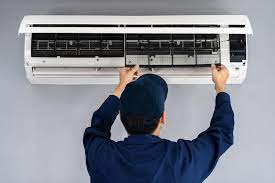 Should I Hire a Pro To Replace My AC
While it's possible to replace your air conditioner by yourself, it can be a risky job. If you're not particularly handy or don't know how to handle tools that well, you might want to call in help. It's always better to be safe than sorry when attempting projects like this one.
If you've never done anything like this before, it's always a good thing to have someone by your side who knows what they're doing. A pro will be highly experienced and know exactly what to do to get the job done quickly and efficiently so that you can go back to using your air conditioner as soon as possible.
Is It Possible To Fix an AC By Yourself
Yes, it is possible to fix an air conditioner by yourself. However, you must know exactly what you're doing when attempting to repair your unit. Hiring a professional will often cost more in the long run but they'll get the job done correctly and much faster than you would be able to do it yourself. Several things can go wrong and you don't want to be wasting your money when it's less costly to have an AC repair service do the work for you.
Important Things To Know Before Replacing Your Air Conditioning System
Before you replace your air conditioning unit, there are a few important things that you need to keep in mind. For example, if your AC unit isn't as old as your home, you might benefit from simply getting a new furnace and air conditioner installed instead of replacing only one or the other. This is going to be much more cost-effective for you in the long run and a lot less hassle too because it'll only take a single service to replace both units.
Another important thing to keep in mind is that you should replace your air conditioner before it breaks down completely. While this will result in a higher energy bill, it's better than having to pay for emergency AC repair services and spending twice as much money as you would have spent on a brand new unit. Replacing an air conditioner is more cost-effective than you might think and the sooner you get your unit replaced, the better.